Accountants in Poway, CA
Inland Accounting Service is one of the premier accounting firms for businesses in Poway, Mira Mesa, Ramona, and San Diego County, CA and the surrounding areas. We are a locally-owned and -operated business with years of experience. Our friendly and professional staff work to provide quality services at reasonable prices!
Your Best Choice of Accounting Firms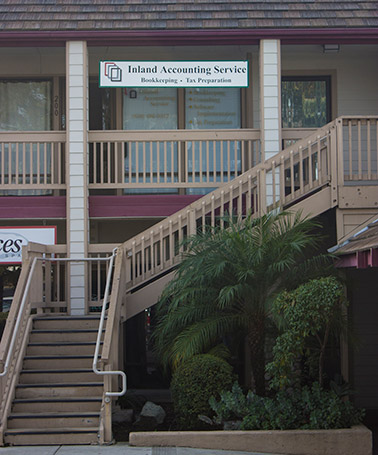 Balancing your books and keeping all of the financial aspects of your business on the level is critical in succeeding—however it's also a job that most business professionals simply aren't equipped to do. It takes an intimate understanding of tax code, payroll and bookkeeping in Poway, CA to keep your business in the black, which is why your accounting is best left to a professional. At Inland Accounting Services, we're here to answer your call for help and are prepared to provide you with a full range of financial and accounting services, including but not limited to personal income tax preparation, self-employment taxes, small business taxes, accounting, bookkeeping, payroll, IRS forms and much more!
When you trust us as your accountant in Poway, CA, you're making a choice for excellence. We're always on top of our game, to ensure we're providing you with unparalleled accuracy, timeliness and quality across any service you're trusting us with. Moreover, we're also enrolled agents for the IRS, giving us insight into how to properly work within the tax code and, if the matter calls for it, to represent your best interests if audited. With QuickBooks experience and applicable knowledge across a wide range of financial demands, we're truly your all-encompassing choice among accounting firms for accounting excellence.
Our business operates on pillars of professionalism, responsiveness and quality.
We employ IRS enrolled agents to ensure the highest caliber services.
We're a locally-owned and –operated business.
We have decades of professional accounting firms experience behind us!
We're pleased to offer free consultations to all prospective customers.
Consult with us Today
If you need tax help or are seeking professional accounting assistance for your small business, get in touch with the accountants at Inland Accounting Service today for a free consultation.
An accountant serving those in:
Poway, CA
Sabre Springs, CA
Fernbrook, CA
Escondido, CA
Del Dios, CA
Ramona, CA
Fairbanks Ranch, CA
Mira Mesa, CA
Miramar, CA
Scripps Ranch, CA
Eucalyptus Ranch, CA